Exhibits
The Thread of Life

The Thread of Life – exhibit tells of the journey of a human life, the everyday, and the festivities, in Southwest Finland of the 1800s. The exhibit focuses on such landmarks of life as marriage and starting a family. The exhibit also shows how the Lutheran church's lessons on a virtuous life walked hand-in-hand with folklore about banishing evil and misfortune and keeping it at bay.
The exhibit walks you through childhood, into youth, to courting and family life to secure one's twilight years, and finally to letting go of them.
The historic house museum
The traditions of Mauno and Ester Wanhalinna are upheld by the historic house museum of the Vanhalinna manor house. It's greatest treasures are the furniture originally from the University of Turku's original Phoenix building. In addition to them, presented in the exhibit are mainly post-Winter War, post-Continuation War and post-Lapland War furniture and items.
The exhibit is focused on the downstairs rooms of the manor house, where the parlor, dining room, the maiden's chamber, the Kultaranta-room, the Householder's office, and the kitchen. Every room tells its own part of the Vanhalinna estate's and the manor house's history, and the story of its owners.
The Lieto Bank and piggy bank exhibit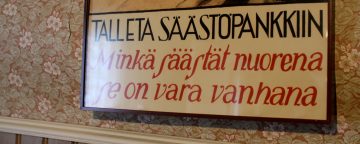 The exhibit, located in the old sauna next to the Vanhalinna manor, presents the furniture and artefacts of one of the banks in Lieto. In addition, various piggy banks are in display. In the building you will also find the room of the bank clerk.
Festive engravings
The exhibit, located in the cellar of Vanhalinna manor, consists of engraved and festive weapons from the 1800s till the 1990s.
The weapons in display are made by, among others, Colt, Sako and Valmet.
The exhibition can be viewed until spring 2023.